Cheyenne Car Accident Attorney
Recovering Millions for Injured Wyoming Residents
Over the past several decades, millions of people have enjoyed the benefits of driving a car. The great privilege comes with tremendous risk. Each year, over 2.5 million individuals suffer injuries or disabilities from auto-related accidents. The road to recovery often involves costly expenses for medical treatment and car repair.
Many victims of automobile accidents have the right to demand compensation for:
Their injuries
Lost income
Other damages related directly to the accident
To find out about your potential to file a successful claim, our car accident attorneys in Cheyanne can help.
---

If you have been injured in a car accident in Wyoming, get legal help today by calling our skilled car accident lawyers at (307) 222-4932 or contact us online. We offer free initial consultations.

---
Car Accident Compensation Laws
What Is the Statute of Limitations on Car Accidents?
Wyoming state legislature determines the time limit of your right to bring a lawsuit to court. Lawsuits over car accident injuries or damage to a vehicle or other form of property are subject to a four-year deadline.
If the car accident caused someone's death, and a family member or representative of the individual wants to file a wrongful death claim, they must do within two years of the date of the accident.
What Is Comparative Negligence?
If you were injured as a driver in an automobile accident in Wyoming, you will need to prove that the other driver was at least 50% at fault for your injuries in order to receive compensation. Comparative negligence laws establish that if the court finds you 51% at fault, you will not receive any compensation for damages. If you are found to be 50% at fault or less, you will be reimbursed according to the percentage of your fault.
That means if you incurred $5000 in damages, and you were found to be 30% at fault, you would be awarded $3500. It is best to rely on the help of a skilled attorney to ensure that your level of fault is accurately determined.
What Are the Types of Damages?
There are two main categories of damages incurred in car accidents including non-economic damages and economic damages.
Non-economic damages include:
Disability
Emotional duress
Pain and suffering
Economic damages refer to:
Loss of earnings
Vehicle replacement or repair
Hospital bills
Medication co-pays
Rental car
How Can a Cheyenne Car Accident Lawyer Help After a Car Crash?
Car accidents can be devastating and often leave victims with lasting physical and emotional scars. Fortunately, if you've been injured in a car accident, you may be entitled to compensation for your losses from the at-fault party. A qualified Cheyenne car accident lawyer can help ensure that you receive the full amount of financial recovery available to you under Wyoming law.
Car accident lawyers near you can provide many services including evaluating claims, negotiating settlements with insurance companies, filing lawsuits against negligent parties, representing clients in court and more. With an experienced Wyoming car accident lawyer on your side, you can rest assured that your rights will be protected throughout each step of the legal process.
The services one of our auto accident attorneys can provide to you after a Cheyenne car accident includes but is not limited to:
Investigating the Accident: A car accident attorney can investigate the circumstances of a car accident to determine who was at fault, gather evidence and build a strong case on behalf of the injured party.
Negotiating Settlements: Attorneys can negotiate with insurance companies on an individual's behalf to secure maximum compensation for their losses and injuries. They may also be able to negotiate an out-of-court settlement if necessary.
Handling Paperwork: Car accident attorneys are well versed in filing claims, filling out paperwork and collecting documents related to the incident in order to ensure that everything is properly filed within legal timeframes set by state law.
Representing Clients in Court: If negotiations fail or if a lawsuit becomes necessary, car accident lawyers provide experienced representation when appearing before judges or juries in court proceedings related to a car crash injury claim.
Offering Legal Advice: An experienced lawyer will be able to advise clients about their rights following an auto accident as well as any laws or regulations that might affect their case so they can make informed decisions throughout proceedings or settlement talks.
At Bailey | Stock | Harmon | Cottam | Lopez LLP, our car accident lawyers in Cheyenne understand the stress and confusion that come with being involved in an auto accident. Our team is committed to helping individuals recover from their losses so they can move forward with their lives. With many years of combined legal experience, we are here to guide you through each step of the process and fight for your rights.
Were You Injured in an Auto Accident? Call Us Today.
Our Cheyenne car accident lawyers care about our clients. When you entrust your legal matter to Bailey | Stock | Harmon | Cottam | Lopez LLP, we will fight for your rights and help you obtain a fair reimbursement for your damages.
With tens of millions recovered for personal injury clients, our firm can be trusted to effectively represent your case. Call us today at (307) 222-4932 or reach out to our firm online.
Related Reading
---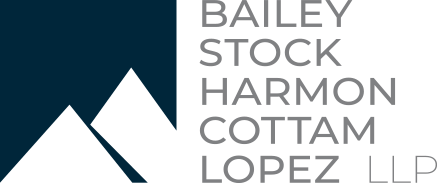 When it comes to estate planning, my wife and I were amazed at the quality of work, promptness, reasonable fee, and professionalism of attorney Lance Harmon.
Contact the Firm
Proudly Serving Clients Across the State of Wyoming
See How We Can Help You