Cheyenne Pedestrian Accident Lawyers
Qualified Trial Attorneys Representing Wyoming Residents
Though many people feel safer not driving a car, there are actually a significant number of pedestrian injuries and deaths that occur each year in the U.S. Pedestrian knockdown accidents are usually the fault of the driver of a vehicle.
What Are the Main Causes of Pedestrian Accidents?
Common causes of pedestrian accidents include:
Speeding
Running Traffic Signals
Failing to Yield the Right-Of-Way
Inattentive or Distracted Driving
At Bailey | Stock | Harmon | Cottam | Lopez LLP, our Cheyenne pedestrian accident attorneys have extensive experience handling a variety of personal injury cases. No matter your particular circumstance, we can help ensure that your rights are protected.
Maximize your opportunity to fully recover after an accident by pursuing legal recourse. Dial (307) 222-4932 today to discuss your case with our aggressive pedestrian accident lawyers in Cheyenne.
Severe Pedestrian Injuries in Wyoming
While not as frequent as vehicle accidents, pedestrian accidents can often result in injuries that are more severe due to the more direct impact on the body, having no form of protection.
Pedestrian accidents can result in a wide variety of injuries including:
Internal injuries
Disfigurement
Sprained or torn ligaments
Fractures and broken bones
Limb loss and traumatic amputation
Neck and back injuries
Contusions, lacerations, and abrasions
Spinal cord injury
Traumatic brain injury
Pedestrian Accidents FAQ:
Q. What is the typical settlement for a hit pedestrian? Every injury claim has its own unique components that make it difficult to give an estimate of what your claim could be worth without first knowing the details of your accident. However, if you discuss your injuries with a pedestrian injury lawyer, we can help you calculate a possible settlement amount based on the following: medical expenses, pain and suffering, lost wages, the type of injuries you sustained in the accident.
Q. Where do most pedestrian accidents occur? The National Highway Traffic Safety Administration reported that most pedestrian accidents occur in the following areas: urban settings, the open road, and intersections. Most fatal accidents occur at night.
Get Legal Help from Our Lawyers Today
Our Cheyenne pedestrian accident lawyers at Bailey | Stock | Harmon | Cottam | Lopez LLP have helped injured pedestrians or their family members hold negligent parties accountable for recklessness or wrongdoing. With over 100 years of combined legal experience, our personal injury lawyers have the necessary skills to professionally deal with any pedestrian accident matter you may be facing.
Contact our firm today at (307) 222-4932 for a free, confidential consultation with our pedestrian accident attorneys in Cheyenne. We look forward to helping you build a solid case.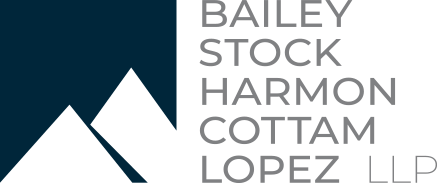 When it comes to estate planning, my wife and I were amazed at the quality of work, promptness, reasonable fee, and professionalism of attorney Lance Harmon.
Contact the Firm
Proudly Serving Clients Across the State of Wyoming
See How We Can Help You