Cheyenne Real Estate Lawyers
Transactions Big and Small – Real Estate Is Our Forté – Serving Star Valley
The attorneys at Bailey | Stock | Harmon | Cottam | Lopez LLP have deep experience in real estate and property law matters of every type. From basic landlord/tenant issues to complex land development and everything in between, our Cheyenne and Star Valley real estate attorneys have handled it all.
We regularly represent a variety of clients who need assistance on property and real estate issues including:
Buyers
Sellers
Landowners
Landlords
Lenders
Developers
Realtors
Title companies
Contact us online or call us today at (307) 222-4932 to find out more about our professional legal services for all your real estate needs.
Standing Out Among Wyoming Lawyers
Our attorneys are very active in professional associations on the cutting edge of real estate issues both nationally and locally. These include memberships in the American College of Mortgage Attorneys and the Southeast Wyoming Estate Planning Council.
Our attorneys have also been involved in drafting and amending legislation governing statutory real estate laws such as foreclosure. As a result, we consider property and real estate law to be one of our strongest areas of practice.
Our Cheyenne Real Estate Attorneys Can Handle It All
At Bailey | Stock | Harmon | Cottam | Lopez LLP, our lawyers have over 100 years combined experience. The legal knowledge and litigation skills we have acquired over the decades enable us to offer comprehensive legal representation for all of your real estate matters.
Our services include:
Purchase and sale of agricultural, commercial, and residential property
Commercial and residential leasing, as well as landlord/tenant matters
Real estate financing and foreclosure
Land use regulation, zoning changes, variances, and conditional use permits
Easements, restrictive covenants, and homeowners' associations
Land development and construction
Conservation easements and other estate planning related matters
Agricultural leases and water rights
Oil & gas matters (including production, leasing, royalty issues, and surface use)
§ 1031 tax deferred exchanges
All types of real estate related litigation
Reach out to our Cheyenne and Star Valley real estate lawyers at Bailey | Stock | Harmon | Cottam | Lopez LLP by dialing (307) 222-4932.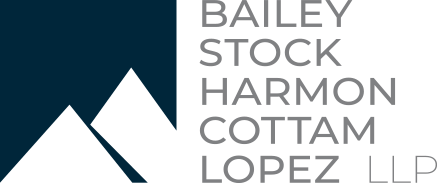 When it comes to estate planning, my wife and I were amazed at the quality of work, promptness, reasonable fee, and professionalism of attorney Lance Harmon.
Contact the Firm
Proudly Serving Clients Across the State of Wyoming
See How We Can Help You