Cheyenne Drunk Driving Accident Attorneys
Proudly Representing Victims of Drunk Driving Injuries in Wyoming
Drunk driving is a significant problem in the U.S. Two-thirds of Americans will be affected by a drunk driving crash in their lifetime. Every two minutes someone is injured because of drunk driving.
Bailey | Stock | Harmon | Cottam | Lopez LLP represents many clients who have sustained injuries due to accidents caused by intoxicated drivers. Our Cheyenne drunk driving accident lawyers can evaluate your case, help you file a claim, and represent your rights to receive fair compensation for the damages you incurred from the accident.
Suffering from injuries caused by a drunk driver? To learn more about your rights after a drunk driving accident, call our drunk driving accident attorneys in Cheyenne at (307) 222-4932.
Filing a Drunk Driver Accident Claim
If you were injured in an accident that was caused by an individual whose ability to drive had been impaired by alcohol consumption, whether legally intoxicated or not, you have the right to file a claim to recover damages. Depending on the drunk driver's past driving record, and the severity of your injuries, he or she could face fines, driver's license suspension, probation, or jail time.
What to do After Being Hit by a Drunk Driver:
Contact your insurance company to inform them that you may file an uninsured driver or SUM claim in the near future
Contact the insurance company of the driver that hit you to inform them that you may file a claim in the near future
Prepare yourself to be involved in the potential upcoming criminal process
Before taking any settlements, speak with an attorney, do not take the first settlement offer by impulse
Find out information about the drunk driver, such as where they were drinking, and gain any witness information possible
What is the Average Settlement for Drunk Driving Accidents?
The guilty party will also be responsible for paying any damages. These expenses are usually taken care of through the individual's insurance company. While it's difficult to make a general statement about drunk driving settlement amounts (since all accidents are different), most settlements take into account the following damages:
Injuries
Hospital bills
Long-term medical treatment
Lost wages
Vehicle repair or replacement
Rental car
Funeral expenses
Wyoming Drunk Driving Statistics
Drunk driving poses a serious threat to drivers throughout the state of Wyoming. The below data was collected by the Wyoming Department of Transportation:
In 2012, DUI arrests made up about 33% of arrests across the state of Wyoming
In the same year, the average blood alcohol content for those arrested for public intoxication in Wyoming was 0.267 (over 3 times the legal amount)
In 2012 almost 3% of individuals arrested for DUI were under 21 years of age
As reported by the 340 minors who were arrested for DUI in 2012, some of the most common areas where minors obtained alcohol included: parties, their home, a bar or a liquor store
In 2012 over 980 traffic accidents in Wyoming were attributed to driving under the influence of drugs or alcohol; 402 crashes resulted in injuries, 37 crashes resulted in death
Seek Legal Help Before Agreeing to a Settlement
Work with our personal injury legal team to find out what your case is really worth. Insurance companies will want to pay you the minimum possible amount. With an aggressive lawyer on your side, you can help ensure that the insurance companies will not shortchange you.
Let our drunk driving lawyers in Cheyenne at Bailey | Stock | Harmon | Cottam | Lopez LLP provide you with the legal representation you deserve. Dial (307) 222-4932 now to speak with one of our qualified advocates.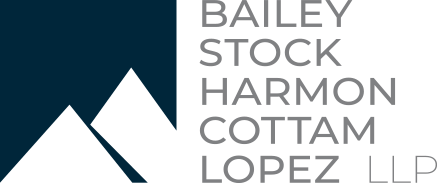 When it comes to estate planning, my wife and I were amazed at the quality of work, promptness, reasonable fee, and professionalism of attorney Lance Harmon.
Contact the Firm
Proudly Serving Clients Across the State of Wyoming
See How We Can Help You