Cheyenne Bicycle Accident Lawyer
Making a Difference for Victims From Star Valley to Cheyenne
Bicycle accidents can be traumatic and leave lingering pain and injury for victims and families. If you or someone you love has been injured in a bicycle accident at no fault of their own, the at-fault party should be held responsible. At Bailey | Stock | Harmon | Cottam | Lopez LLP, we help clients seek the compensation they deserve to help aid in their mental, physical, and financial recovery.
Our firm has more than 100 years of combined experience providing the residents of Cheyenne and Star Valley with legal representation they can trust. If you've been injured because of the actions or inactions of a negligent driver, you deserve to be compensated for your losses and damages.
Bicycle Accident Statistics
Every year, more and more people choose to use their bikes as a means of transportation. According to the National Highway Traffic Safety Administration (NHTSA), cycling to work has increased exponentially.
From 2000 to 2012, biking to work increased by 64%. In 2019, 846 cyclists were killed in motor vehicle crashes. Researchers also found that an increasing number of bicyclists have been injured by motorists since 2009. In 2017, 783 bicyclists were killed in crashes.
---
Our Cheyenne bicycle accident lawyers have many years of experience serving the area. Contact Bailey | Stock | Harmon | Cottam | Lopez LLP today at (307) 222-4932 to schedule a consultation.
---
What Are the Most Common Causes of Bicycle Accidents?
Bicycle accidents are often the result of distracted driving and negligent behavior on the motorist's part.
Cyclists are at risk when sharing the road with vehicles, and they are in most peril in the following circumstances:
Risky Passing: Motorists often pass cyclists so they won't be slowed down by the biker going at a reduced speed, but many do not leave enough space between them and the cyclist. Risky passing can lead to serious accidents.
Lane Crossing: It's not uncommon for motorists to cross a biker's bath, especially when stopped at an intersection. Motorists often cross the path of bikers, which leads to serious accidents. This is common for left turns. Drivers can also cause a crash when they cross the path of bikers making a right turn. Turning accidents are typically caused by failure to signal before a turn or lane change.
Dooring: When motorists open the door to their vehicles when parked, and in the path of cyclists, riders can be injured by the doors.
Backing Up: Drivers backing cars out of their driveways hit cyclists riding their bikes on sidewalks or streets nearby.
Unfortunately, many bicycle accidents are caused by speeding, distracted, and tired drivers who fail to see cyclists until it's too late.
Types of Bicycle Injuries
Bicycle accidents cause terrible injuries that can be difficult to recover from, even after a long rehabilitation.
Because a bicycle doesn't provide any protection to riders, when motorists impact bikers, it can lead to severe injuries, including but not limited to:
Head Injuries: Injuries like skull fractures, intracranial hemorrhaging, and concussions are common injuries stemming from bicycle accidents. Bikers who experience more serious head injuries like traumatic brain injury (TBI) will need medical care and physical therapy.
Facial Injuries: Your face can sustain severe damage from impacting the road, other vehicles, or foreign objects.
Soft Tissue and Skin: If a biker is ejected from their bike, they can sustain lacerations, contusions, or abrasions from the road.
Muscle and Skeletal Injuries: Fractures, dislocations, and heavy bruising.
This is not an exhaustive list of injuries, but these injuries are just a few of the most common ones seen in bicycle accident cases.
How to Prevent Bicycle Crashes and Injuries
Vehicles are designed to keep drivers as safe as possible in a crash, but bikers have no such protection. While cyclists can wear helmets and protective gear, they are mostly unprotected when riding their bicycles.
When bikers are involved in a crash with a vehicle, they typically sustain the majority of all the injuries. The best course of action for cyclists is to avoid bicycle accidents.
Bicyclists can decrease the likelihood of a crash or severe injury by:
Wearing a helmet fitted for age and size
Using a bike designed for your age and size
Wearing bright or fluorescent clothes when operating your bike during the day
Wearing reflective clothing when operating your bike at night
Adding flashing lights to your bicycle
If You're Involved in a Bicycle Accident in Cheyenne
At Bailey | Stock | Harmon | Cottam | Lopez LLP, we provide legal representation for those injured by negligent motorists.
If you or someone you love is ever involved in a bicycle accident, it's important to do the following:
Be Checked by a Doctor: If your injuries aren't life-threatening, you will likely not be transported to the hospital for an exam, so it's important to visit the doctor after your accident. You will need to be checked for underlying injuries from the crash to ensure you aren't hurt.
Keep Everything Related to the Incident: Don't throw away anything related to the incident. Elements from the crash, like your bike, helmet, and protective gear, can help as you're preparing for court.
Secure a Copy of the Police Report: If you don't have a copy of the police report, you will need to get one. A police report can provide you with important details from the accident and help investigate your case.
Don't Speak to Anyone Trying to Negotiate a Settlement: It's important to avoid accepting insurance settlements from your insurance or the at-fault party's insurance if you plan to sue for damages. It could be used against you in court.
Contact an Attorney: Securing legal representation is an important step in pursuing fair compensation after your injuries. An attorney will help you investigate your case and develop a strategy for how best to proceed in your situation.
Cheyenne Bicycle Accident Lawyer
At Bailey | Stock | Harmon | Cottam | Lopez LLP, we are committed to helping our clients find out who is responsible for their injury and bringing the at-fault party to court to take accountability for the damages they caused to your bike, your physical, mental, and financial well-being.
Our attorneys will help you prepare for your case and seek a fair and equitable settlement to cover your losses. Bicycle accidents are often caused by negligent motorists who fail to notice and respect cyclists sharing the roadway. Our firm will help you fight for the compensation you deserve.
---
Contact our Cheyenne bicycle accident attorneys today at (307) 222-4932 to schedule a consultation.
---
Related Reading
---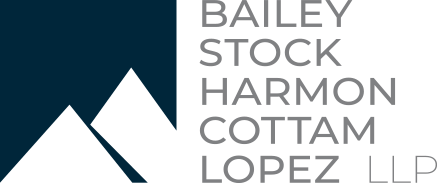 When it comes to estate planning, my wife and I were amazed at the quality of work, promptness, reasonable fee, and professionalism of attorney Lance Harmon.
Contact the Firm
Proudly Serving Clients Across the State of Wyoming
See How We Can Help You