Dog Bite Lawyer in Cheyenne
Providing Legal Representation to Clients Across Wyoming
Dog bites accidents can be a terrible experience to live through. Not only do victims usually carry the scars of the accident with them for life, but many also have emotional baggage and a life-long fear of dogs and other animals. The extent of the physical and emotional scars suffered by a victim may never be healed. So, if you or someone you love has been injured in a dog bite accident, you may need to explore legal options to cover medical expenses and other recovery costs. None of us will ever definitively know why a dog chooses to bite a person, and while canine experts have opined on the topic, there are still just as many questions.
According to the Center for Disease Control and Prevention, there are more than 10 million dog bite incidents worldwide every year, and nearly five million of those happen in the United States. Of those bitten, 800,000 need medical attention after the incident. Dogs are very popular pets in the United States, so this isn't a surprising number. However, many stats show unsocialized, isolated, and tethered dogs are 2.8 times more likely to attack or bite a person than other dogs. Researchers have also provided statistics that show certain breeds are more likely to bite people than others.
The following breeds are most likely to bite people:
Pit Bulls
German Shepherds
Terriers
Rottweilers
Mixed breeds
It's also important to remember almost half of all dog bite accidents happen to children, with more than 375,000 needing emergency room visits. Most dog bites in children occur when interacting with familiar dogs, and many are preventable.
How to Prevent Dog Bites
Socialization is important for dogs, and they need to be exposed early and regularly to other people and dogs if you want to prevent them from being aggressive biters. Dogs belonging to responsible pet owners are also unlikely to bite someone. Responsible pet owners care for their dogs and practice responsible pet ownership by teaching those around them how to interact with their pets.
A pet owner who spends time with their dog knows what upsets their pet and will avoid putting their animal in risky situations. They will also know how to interpret their pet's body language, which can prevent accidents. These seemingly simple actions can go a long way toward preventing dog bites in your neighborhood and home.
Common Dog Bite Injuries
Not every dog bite incident will lead to life-changing injuries, but many accidents require medical intervention. The most common severe dog bite accident injuries include:
Soft tissue damage
Broken bones
Head, neck, and eye injuries
Facial scarring and injuries
Nerve damage
Psychological trauma
Common Reasons for Dog Bite Accidents
Most dog bites are accidents, but that doesn't mean they aren't still the result of negligence. Dog owners who don't socialize with their pets or provide training are negligent pet owners.
Ignoring the Law: Some pet owners ignore city ordinances requiring pets to be leashed in certain areas. These laws are in place for a reason, and ignoring the law can lead to accidents.
Problem Pets: Many dog owners know their pet has issues. Their pet may have bitten someone in the past, and they are aware of their pet's propensity for attacking others. When pet owners know their dog is a danger to others, they have a responsibility to protect the public by keeping their dog away from vulnerable populations.
Landlord Failure to Act: If you live around neighbors in an apartment complex, for example, your landlord is responsible for enforcing rules
Children: Almost half of all dog bite accidents happen to children under 6. Young children are not responsible for dog bite accidents because their age often prevents them from understanding how their interactions may anger a dog. They also cannot read a dog's body language to sense danger.
---
Contact our Cheyenne dog bite accident attorneys today at (307) 222-4932 or online to schedule an initial consultation to discuss your case.
---
Why You Need an Attorney for Your Cheyenne Dog Bite Case
Your dog bite incident may require legal assistance to recover compensation for your injuries and damage. Without a legal representative working on your behalf, you may struggle to put together a case to prove negligence. An attorney can help you understand the laws in your area and get you ready to appear in court if necessary. If you hire an attorney, they can also help you avoid pitfalls that could derail your case.
An experienced Cheyenne dog bite accident attorney will be familiar with how the at-fault party may try to defend the actions or dispute the claims of negligence exhibited by their client. A seasoned attorney will know the ins and outs of these cases and ensure all your paperwork is filed and you're ready to fight for compensation for your injury.
What Should You Do if a Dog Attacks You?
If you are injured in a dog bite accident, you need to seek medical attention immediately. If your injuries aren't life-threatening, your first call should be to a Cheyenne dog bite accident attorney. Your attorney can walk you through the next steps to ensure you are taken care of and put in the best position to be compensated for your injury. You can give the police details about the accident when asked.
You will also need to collect evidence for your case, like:
The identity of the dog and its owner
Photographs of the dog and your injury
Contact information of eyewitnesses
Your medical records from the incident
Our Cheyenne dog bite accident attorneys can provide you with the help you need to seek compensation for your losses and injury. Please don't make a recorded statement until our attorneys can help you.
---
Contact the attorneys at Bailey | Stock | Harmon | Cottam | Lopez LLP today at (307) 222-4932 to schedule a consultation or for our help preparing for your case.
---
Related Reading
---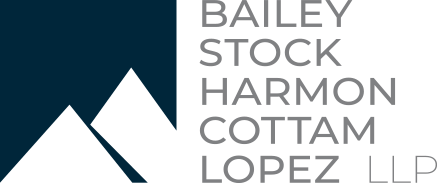 When it comes to estate planning, my wife and I were amazed at the quality of work, promptness, reasonable fee, and professionalism of attorney Lance Harmon.
Contact the Firm
Proudly Serving Clients Across the State of Wyoming
See How We Can Help You