Cheyenne Estate Planning Lawyers
What Matters Most to You, also Matters Most to Us
At Bailey | Stock | Harmon | Cottam | Lopez LLP, we help you plan for what matters most.
We work with you to provide practical solutions tailored to your needs whether your concern is:
Securing the future of your children
Protecting your assets
Transferring wealth through generations
Preparing your business for succession
Our Cheyenne estate planning attorneys take the necessary time to answer questions and address your concerns, as well as work with accountants and investment advisors to implement sound but flexible strategies—from the very simple to the most sophisticated. As part of the process, we strive to be lifelong and multi-generational advisors to our clients.
We are willing to go above and beyond to help our clients. Call (307) 222-4932 today to schedule a consultation.
Comprehensive & Uncomplicated Estate Planning
Sometimes it can be difficult to think about the future, especially when it involves contemplating the end of life, but estate planning can help give you peace of mind. Our compassionate attorneys can walk you through a straightforward process to create a well-crafted estate plan that satisfies your wishes and guarantees the proper distribution of your assets.
Cases We Handle
We offer a variety of estate planning services, including:
Trust preparation, amendment, and reformation, including both revocable and irrevocable trusts
Will preparation and amendments
Gift, estate, and generation-skipping transfer tax planning, including estate tax return preparation
Durable Powers of Attorney and other healthcare directives
Probate and trust administration, including representation of trustees, personal representatives, and beneficiaries
Family limited partnerships
Business succession planning including buy-sell and stockholders' agreements
Conservation easements
Pre-nuptial and other marital agreements
Special Needs, Medicaid and benefits planning
Related Reading
---
Whether you are planning ahead or dealing with a difficult situation, our Cheyenne estate planning lawyers are ready to help you today. Call Bailey | Stock | Harmon | Cottam | Lopez LLP at (307) 222-4932 or contact us online.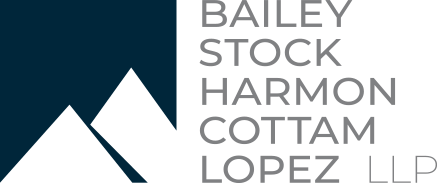 When it comes to estate planning, my wife and I were amazed at the quality of work, promptness, reasonable fee, and professionalism of attorney Lance Harmon.
Contact the Firm
Proudly Serving Clients Across the State of Wyoming
See How We Can Help You