Labor & Employment Lawyers in Cheyenne
Protecting Wyoming Businesses from Costly Lawsuits
You may have heard from your doctor that "prevention is better than a cure." Well, the same is true for most areas of the law, particularly labor and employment. It is better to prevent an employment dispute than it is to resolve it through litigation or in court.
Our Cheyenne labor and employment attorneys work with companies in doing just that, by helping them make informed, reasoned, and compliance-based decisions that accomplish company goals and manage the risks of liability inherent in being an employer.
Contact Bailey | Stock | Harmon | Cottam | Lopez LLP today online or at (307) 222-4932 for advice and solutions that could minimize the financial impact of labor and employment litigation.
Legal Counsel & Representation for Employers
Ensuring compliance with ever-changing HR and employment laws in Wyoming can be a challenge. Oftentimes, complicated, confusing, and overlapping laws that govern the employee-employer relationship make it difficult for even the most conscientious and well-intentioned employers to know what to do. This is where our law firm can offer valuable assistance.
We offer our business clients a number of services including:
Advice on implementing smart workplace policies, creating an employee handbook, and/or training on the law
Help navigating the maze of federal, state, and local laws and regulations
Legal defense in workplace disputes, including but not limited to mediation, arbitration, administrative proceedings, and trial
Representation against claims regarding workplace discrimination, sexual harassment, retaliation, termination, and unpaid wages
Rely on Our Experienced Lawyers
Whatever your business need may be, Bailey | Stock | Harmon | Cottam | Lopez LLP can help. When you let our Cheyenne labor and employment lawyers handle your business's legal matters, you will be able to focus on what you do best - running your business.
If you are an employer facing a lawsuit by a current or former employee, contact our firm immediately at (307) 222-4932.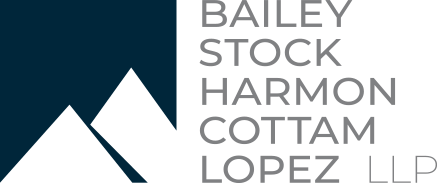 When it comes to estate planning, my wife and I were amazed at the quality of work, promptness, reasonable fee, and professionalism of attorney Lance Harmon.
Contact the Firm
Proudly Serving Clients Across the State of Wyoming
See How We Can Help You