Cheyenne Medical Malpractice Attorneys
Helping Clients in Wyoming Seek Justice After Suffering Injuries From Medical Negligence
Have you or someone you love been injured due to medical negligence in Wyoming? Our Cheyenne medical malpractice lawyers at Bailey | Stock | Harmon | Cottam | Lopez LLP can help. Our aggressive attorneys have the knowledge and experience necessary to fight against your healthcare provider's skilled defense lawyers.
For professional legal services from a team of advocates who will care the most and work the hardest, call (307) 222-4932 or contact us online. Our Cheyenne medical malpractice lawyers are ready to help you.
Is it Hard to Win a Medical Malpractice Case?
Generally speaking, malpractice cases are a challenge to win, which is why it is beneficial to have the aggressive help of an experienced attorney on your side. Proof is necessary to win! Your med mal attorney will work to prove that the medical professional involved was negligent or purposefully practicing misconduct.
Providers Liable to Medical Malpractice
There are a variety of healthcare professionals that can be held accountable for negligent actions that could result in serious injury or even death.
Medical malpractice applies to many different healthcare providers including:
Doctors
Nurses
Nurse practitioners
Midwives
Psychiatrists
Lab technicians
Nurse aids
Nursing assistants
Walk-in care facilities
Psychologists
Hospitals
Therapists
Surgery centers
Physical therapists
If you have suffered an injury after working with a medical professional, reach out to our medical malpractice lawyers in Cheyenne at Bailey | Stock | Harmon | Cottam | Lopez LLP.
We Handle a Variety of Injuries Caused by Medical Negligence
At Bailey | Stock | Harmon | Cottam | Lope LLP, our personal injury attorneys offer professional, tenacious representation for clients who sustain injuries due to their healthcare provider failing to perform their responsibilities correctly.
Our Cheyenne medical malpractice attorneys help victims of:
Hospital errors and mistakes
Nursing malpractice
Nursing home abuse
Cancer misdiagnosis
Dentist malpractice
Birth injuries
Failure to diagnose
Failure to treat
Prescription drug errors
Surgical errors and mistakes
Defective medical devices
Five Elements of a Medical Malpractice Case
There are federal law mandates that say medical malpractice victims must prove elements of negligence in a case.
The five elements of negligence are:
A legal duty of care existed between the healthcare provider and patient or victim.
The duty of care was breached because the provider did not provide the accepted standard of care to the victim.
The provider's breach directly or indirectly caused harm to the victim.
There is proof that damage occurred.
If there is no proof that damage occurred, then you will not have a claim, even if the provider did not meet the accepted standard of care. If you have more questions, reach out to the experienced Cheyenne med mal lawyers at Bailey | Stock | Harmon | Cottam | Lopez LLP for a consultation.
Contact Us for Solid Representation
Healthcare professionals will not tell you when they have committed medical malpractice. They will want to cover it up. But you deserve the truth, and adequate compensation for any complications you have incurred as a result of their negligence. Our medical malpractice attorneys in Cheyenne can help ensure that your rights are protected and that you are treated fairly.
The time to act is now. Call our talented Cheyenne medical malpractice lawyers at (307) 222-4932 or reach out to our firm online to get started with your case.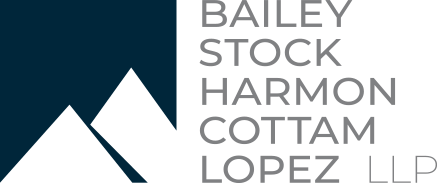 When it comes to estate planning, my wife and I were amazed at the quality of work, promptness, reasonable fee, and professionalism of attorney Lance Harmon.
Contact the Firm
Proudly Serving Clients Across the State of Wyoming
See How We Can Help You