Cheyenne Personal Injury Attorneys
Aggressive Trial Lawyers Serving All of Wyoming
If you or a loved one has been injured by another person's negligence or intentional misconduct, you might be entitled to compensation. To find out more, and to have all of your questions concerning personal injury litigation answered, contact the Cheyenne personal injury lawyers at Bailey | Stock | Harmon | Cottam | Lopez LLP.
Over the past 20 years, our Wyoming personal injury law firm has recovered tens of millions in compensatory damages for our clients, in cases ranging from medical malpractice to motor vehicle accidents, and injuries ranging from a damaged joint to wrongful death.
---
Call us at (307) 222-4932or via online form. We can evaluate your case and help you win compensation. Our free consultation can put you on the road to a fair recovery.
---
Our Cheyenne Law Firm's Personal Injury Practice Areas
We know the circumstances leading to each injury vary as widely as the injuries themselves. Our personal injury attorneys have the experience and skill set necessary to represent a vast array of case types.
Our areas of practice include:
Bicycle accident injuries
Dog bite injuries
Products liability claims
Wyoming Personal Injury Statute of Limitations
In Wyoming, the Statute of Limitations is 4 years. It's important that you begin your injury claim as soon as possible following your accident.
While four years may seem like a long time, you want to allow your attorney as much time as possible to gather information about your case before filing your lawsuit. Don't wait! Contact our Cheyenne personal injury firm at (307) 222-4932.
Injuries May Present Themselves Long After the Accident
Did you know that it's common to feel the effects of an accident day, weeks, and sometimes even months after an accident? For example, you may not feel the aches and pains from a car accident immediately afterward, but more so in the following 24-48 hours. Your neck may start to ache, you may have a lingering headache, and suddenly your ankle doesn't feel right.
This simple scenario is extremely common and a perfect example of why you need the guidance of a personal injury lawyer in Cheyenne to guide you through the claims process and get the proper amount of compensation to cover your injuries.
We have recovered compensation for a wide variety of injuries, including but not limited to the following:
Traumatic brain injuries
Paralysis
Amputation
Burns
Broken Limbs
Back, neck, knee, and shoulder injuries
Infectious disease
Post-traumatic stress
---
Call (307) 222-4932 to speak to an experienced Wyoming personal injury lawyer in Cheyenne.
---
How Can I Prove Pain and Suffering?
In order to validate pain and suffering claims, you may need to provide any or all of the following items as proof:
Photographs of injuries
Medical prognosis
Medical bills
Medical records
Psychiatric records
Expert testimonies
Can You Sue a Company for a Bad Product?
First, it is important to differentiate between a faulty product and a harmful product. A faulty product could be a pen without ink whereas a harmful product could be a children's jack in the box toy that launches at your child. If you believe that you have purchased a product that's defectiveness is a danger, contact our firm right away to get started filing a defective product case!
Our Wyoming Personal Injury Lawyers Are Ready to Help
No matter what type of accident you have experienced, you deserve to have solid legal representation that you can depend on. Turn to the Cheyenne personal injury attorneys at Bailey | Stock | Harmon | Cottam | Lopez LLP for top-notch advocacy and compassionate personal service.
---
Schedule an appointment today by dialing (307) 222-4932. Our personal injury lawyers look forward to discussing your case with you.
---
Related Reading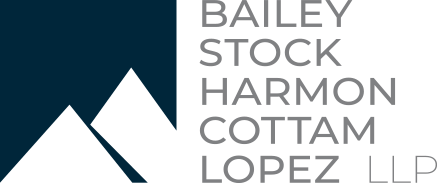 When it comes to estate planning, my wife and I were amazed at the quality of work, promptness, reasonable fee, and professionalism of attorney Lance Harmon.
Contact the Firm
Proudly Serving Clients Across the State of Wyoming
See How We Can Help You