Cheyenne Family Law Attorneys
Over 100 Years of Combined Legal Experience
The issues pertaining to family law are some of the most taxing, stressful, and personal legal issues anyone can face. Bailey | Stock | Harmon | Cottam | Lopez LLP can help you through the process whether you are going through:
A high-dollar, multi-asset divorce
Trying to establish a fair custody and visitation plan
Modifying a prior divorce or custody order
Because of the deeply personal nature of family law, you need a lawyer you can trust, a lawyer who will listen, and a lawyer who will view your situation with understanding and respect. Our Cheyenne family law attorneys understand the dynamics of conflict within the family and know how to work with opposing parties and lawyers effectively to bring you results.
Contact our firm today! Fill out a contact form or call (307) 222-4932 to schedule a FREE consultation with one of our Cheyenne family law attorneys.
Dispute Resolution & Trial Representation
Our firm has an excellent track record at settling complicated and contentious family law disputes. However, if your legal issue requires going to court, you can be confident knowing our attorneys have decades of experience at trial and in the courtroom, and have mastered the procedural maze of:
Court rules
Proceedings
Pleadings
Paperwork
We handle a wide variety of family law matters including:
Divorce
Custody and visitation
Child support
Mediation
Establishment of paternity
Termination of parental rights
Legislative advocacy
Conservatorship for children and adults
Guardian ad litem services for children and adults
Contact Bailey | Stock | Harmon | Cottam | Lopez LLP
Call us today to discuss your circumstances, and let our Cheyenne family lawyers evaluate your case and guide you through the legal process. Initial consultations are offered at no charge.
Related Reading
---
With a healthy balance of experience and youth, our Wyoming legal team is an excellent choice when you need assistance with settling your family law disputes. Contact us today at (307) 222-4932.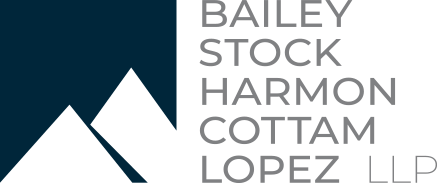 When it comes to estate planning, my wife and I were amazed at the quality of work, promptness, reasonable fee, and professionalism of attorney Lance Harmon.
Contact the Firm
Proudly Serving Clients Across the State of Wyoming
See How We Can Help You