Colorado Personal Injury Attorneys in Broomfield
Proudly Representing Victims of Negligence
At Bailey | Stock | Harmon | Cottam | Lopez LLP, our experienced attorneys are committed to providing individuals—who have suffered injuries in negligence-related accident—the professional, compassionate legal representation they deserve. With over 100 years of collective legal experience, we understand the state laws and complexities of these cases and strive to ensure our clients receive the justice and compensation they are entitled to. Our attorneys will work closely with you throughout every step of your case, and we can answer any questions you may have to empower you to make informed case-related decisions.
---
Learn more about how our firm can help with your Broomfield personal injury case. Call (307) 222-4932 or reach out to us online.
---
How Much Is My Broomfield Injury Worth?
In personal injury cases, the compensation you receive can vary based on your case details. There are three different types of damages you can be awarded, including:
economic damages, which repay you for losses you incurred because of your injury like medical expenses, therapy, surgery costs, mental health treatment, past and future lost income, and other financial loss,
noneconomic damages, which aim to compensate you for your pain and suffering, and
punitive damages, which aim to punish the liable party for gross negligence monetarily.
An experienced attorney can help you calculate your damages and fight to receive a fair settlement. They can also advise on whether you will likely receive punitive damages in your case.
Attorney Douglas W. Bailey Can Help Broomfield Accident Victims
Doug Bailey is skilled negotiator and litigator, and he has dedicated his practice to personal injury cases, including wrongful death claims. Known for his heart and compassion, Doug is invested in our clients' cases and more importantly their recovery.
Attorney Bailey works on a contingency fee basis, which means that our firm isn't compensated unless we win your case. Doug has recovered millions of dollars in damages for his clients and is often able to reach a fair settlement.
When you retain his counsel, you can trust that Attorney Bailey will take the time to educate you on your case and keep you informed throughout the legal process. He will move at your pace and can take time to explain every step of the legal process.
A Compassionate Approach to Personal Injury Cases
Bailey | Stock | Harmon | Cottam | Lopez LLP takes a personal approach to handling cases, and our attorneys take the time to get to know our clients and support them throughout the legal process. From educating clients on the laws governing their case to helping clients achieve case goals, our firm as a longstanding reputation for excellence and honesty.
Our firm handles a wide variety of personal injury matters, such as:
Bicycle Accidents
Dog bites
DUI-related accidents
Medical malpractice
Motor vehicle accidents
Pedestrian accidents
Premises liability
Workers' compensation
Wrongful death claims
---
If you have been injured in a negligence-based accident in Broomfield, contact our office online or via phone (307) 222-4932today and schedule a time to discuss your case with Attorney Douglas W. Bailey.
---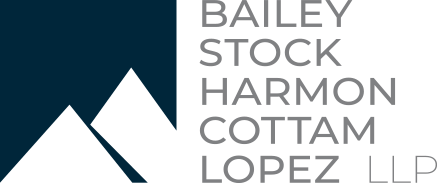 When it comes to estate planning, my wife and I were amazed at the quality of work, promptness, reasonable fee, and professionalism of attorney Lance Harmon.
Contact the Firm
Proudly Serving Clients Across the State of Wyoming
See How We Can Help You