Jackson County, CO Personal Injury Attorneys
Trusted & Reliable Legal Counsel for Victims of Negligence
If you or a loved one has been injured due to the negligence of another person, Bailey | Stock | Harmon | Cottam | Lopez LLP is here for you. Our team of experienced attorneys is dedicated to representing victims of negligence and ensuring they receive the maximum amount of compensation for their suffering.
We understand that navigating legal processes can be difficult, which is why we make sure each client receives personalized attention throughout their case to guarantee their rights are protected every step of the way. We handle a variety of personal injury matters, including:
Motor vehicle accidents
Bicycle accidents
Pedestrian accidents
Medical malpractice
Dog bites
DUI-related accidents
Premises liability
Worker injuries
Wrongful death claims
---
If you or a loved one have been hurt someone else's negligence, contact our Jackson country personal injury attorneys today. Call (307) 222-4932.
---
What to Ask During Your Initial Consultation with a Personal Injury Attorney
An initial consultation with an attorney is an important step in the process of pursuing legal action. During this consultation, the attorney will have a chance to listen to your story and gather pertinent information about your case.
They can then assess whether they feel you have grounds for pursuing legal action and provide advice on what steps should be taken next. With the information gathered during this consultation, the attorney can form a plan of action that they believe will best achieve justice or compensation in your situation.
This meeting also provides an opportunity for you to ask questions, understand your rights, and get a better understanding of how the lawyer plans on approaching your case. Here are some questions you should ask during this consultation:
How long have you been practicing personal injury law? You should know how much experience they have with personal injury cases as that can inform whether they can handle your case. If you have a unique or complex case, you may want someone with more experience.
Have you handled cases similar to mine? This question gives you insight into whether they have previous cases they can draw on to inform their strategy for your case. While every case is as unique, attorney can employ similar strategies and learn from successes in previous cases.
What would your strategy be for my case? Based on the preliminary information you've shared, the attorney should be able to offer insight into how they would approach your case.
Do you have any reviews or testimonials I can review? Learning how the past clients feel about the attorney/firm and their services can be invaluable information.
What is your hourly rate? You can learn whether they bill hourly or a flat rate fee, which can inform your budget.
How much time can you devote to my case? With this question, you can learn if other people at the firm (i.e. associate attorneys, paralegals, etc.) will be working on your case; you can also ask to meet them to gauge whether you want to work with them as well.
Attorney Douglas W. Bailey | Dedicated Personal Injury Attorney
Attorney Bailey has a proven track record of success in handling personal injury matters and primarily handles personal injury and wrongful death cases. He is known for being dependable, dedicated, and experienced, and you can trust that your case is in good hands.
When working with clients, Attorney Douglas Bailey doesn't just take an interest in the case-specifics but also takes interest in you and your recovery. He takes a personal approach to cases, which means that he not only involves clients in the legal process but also takes time to check in on you and your health process. In many cases, Attorney Doug has been known to meet with clients' doctors and medical team.
Attorney Doug Bailey is fluent in Russian. He also has a proficient understanding of Ukrainian and is working to become proficient in Spanish.
Let Our Firm Help You
At our firm, we genuinely care about our clients and their families, which is why we provide high-quality and honest legal counsel. If you or a loved one have suffered because of someone else's negligence, you can trust our firm with your case. Bailey | Stock | Harmon | Cottam | Lopez LLP is backed by over 100 years of collective experience, and our attorneys have recovered tens of millions of dollars for our personal injury clients.
---
Fill out our online contact form or call (307) 222-4932 today to schedule a free initial consultation.
---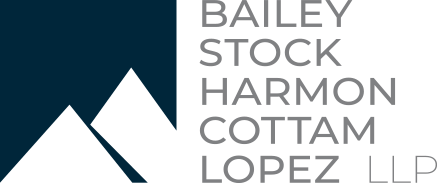 When it comes to estate planning, my wife and I were amazed at the quality of work, promptness, reasonable fee, and professionalism of attorney Lance Harmon.
Contact the Firm
Proudly Serving Clients Across the State of Wyoming
See How We Can Help You